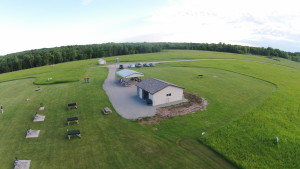 This field is our main field for flying powered airplanes and helicopters.
Location
Quarry Field  is located near Mackville, about 4 miles north of Appleton. Go north of Appleton on Hwy 47 to Mackville.  Turn left on Hwy O and go west 1 mile to Quarry Road. Quarry Road is immediately on your left after crossing the railroad tracks.   Turn left onto Quarry and go south 0.4 miles to the field entrance on your left (east side of road).
ONLY VAM  CLUB MEMBERS ARE ALLOWED TO OPEN THE GATE FOR FLYING ACCESS.
Deg:  44  Min: 20  Sec: 16.0440 N
Deg:  88  Min: 26  Sec: 19.6800 W
44.337789° Latitude
88.438800° Longitude
Address is:  W5007 Quarry Road Mackville WI 54913-9758
Gate Locking Procedure:
Per our lease agreement with the City Of Appleton our lock must be locked to their lock as shown below. It is very important that we lock the gate correctly so that city workers can access the site.