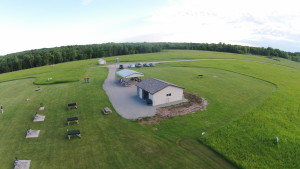 Quarry Field is an improved flying site that features two grass runways, pavilion, clubhouse, tables, starting stands, and more. All types of models are welcome. Spectators and visiting AMA members are welcome, however, only VAM club members are allowed to open the locked gate to access the site.
Location
Address:
5007 Quarry Road
Appleton WI 54913
Quarry Field is located near Mackville, about 4 miles north of Appleton. Go north of Appleton on Hwy 47 to Mackville. Turn left on Hwy O and go west 1 mile to Quarry Road. Quarry Road is immediately on your left after crossing the railroad tracks. Turn left onto Quarry and go south 0.4 miles to the field entrance on your left (east side of the road).
Gate Locking Procedure:
Per our lease agreement with the City Of Appleton our lock must be locked to their lock as shown below. It is very important that we lock the gate correctly so that city workers can access the site.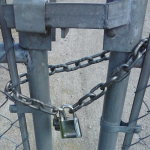 Site Rules for Quarry Field:
Be respectful of the land and all of our neighbors.
No Firing Guns (includes firearms, airguns, paintball guns)
No Hunting or Trapping
No Fireworks or Pyrotechnics
No Archery
No Littering
All Pilots must be prepared to show a current AMA membership card to fly. VAM members should also have their VAM Club ID with them.
All trash must be removed from the field for disposal at home. No trash receptacle will be kept at Quarry Field.
The first VAM Member to arrive at the field should unlock the gate.  The last VAM Member leaving must lock the gate, even if leaving a City of Appleton employee or contractor on site.  No guests may be left on the property without an escort.
 If you smoke on the flying field, do not extinguish your cigarette butt on the ground, but put it in a container and remove it from the flying field when you leave.  
During winter months, when snow is present, the main gate must remain closed at all times to prevent snowmobiles from entering the site.  
Tent stakes may be used, but limited to 8 inches in length.
The speed limit for all vehicles is 15 mph. At all times, all vehicles must remain on the gravel-covered surface.
Should there be any problems with the lock, site, or any accidents involving the City of Appleton property, immediately contact a club officer. 
Guest Pilots must be a current AMA member, a current VAM member must accompany any Guest Pilot. Frequent guest pilots are required to join VAM (does not apply to pilots at events)
Flying Rules:
Follow the AMA Safety Code
No flying over pits, buildings, or parking lot.
Aircraft set-up (fueling and/or engine run-up and tuning) should be performed in the pits. Please do not perform your set up at the Flight Line.
When flying with FM radios: frequency control pins and a radio impound (of FM radios) must be used any time any pilot is flying or preparing to fly.
For the safety of our members and visitors, VAM reserves the right to flight check any pilot flying at this site.
Any member who witnesses a violation of any VAM Site or AMA Safety Rule whether accidental or intentional is encouraged to remind the offender of the rule. Any pilot who ignores such a reminder may be reported to a VAM Board Member for disciplinary action.